Orchestra
Erik Nielsen Director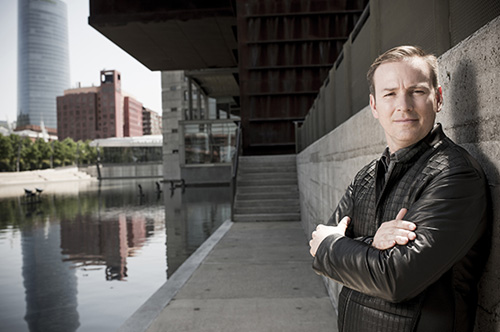 Erik Nielsen has been Chief Conductor of the Bilbao Symphony Orchestra since September 2015.
Since the 2016-17 season he has also held the position of Music Director at the Basel Theatre.
Erik Nielsen studied conducting at the Curtis Institute of Music in Philadelphia, and graduated as a double major in oboe and harp at the Juilliard School in New York.
He was a member of the Orchestral Academy of the Berlin Philharmonic where he played the harp.
In September 2009 he won the conducting prize and received the scholarship awarded by the Solti Foundation in the United States.
He has performed a wide-ranging operatic repertoire, with companies such as the Frankfurt Opera, the English National Opera, the Boston Lyric Opera, the New York Metropolitan, the Rome Opera, the Dresden Semper Opera, the Opera Hedeland Festival, the Deutsche Oper in Berlin, the Sao Carlos National Theatre , the Malmö Opera Theatre, the Zurich Opera Theatre, the Bregenz Festival, the Champs Élysées Theatre in Paris, ABAO, the Hungarian National Opera and the Welsh National Opera.
He has conducted orchestras such as the new World Symphony Orchestra, the Geneva Chamber Orchestra, the Frankfurt and Stuttgart radio symphony orchestras, the Castile and Leon Symphony Orchestra, the Portuguese Symphony Orchestra in Lisbon, the Strasbourg Philharmonic, the Luxembourg Philharmonic, the South Westphalia Philharmonic, the Ensemble Modern, and the Northern Sinfonia in the UK, among others.